[Editor: I'm very pleased to present to you this interview with a very inspiring person: Kim Bjørn, the author of the wonderful gear books – Patch&Tweak, Push Turn Move and Pedal Crush]
1. Favorite knob/fader/switch on a piece of gear and why?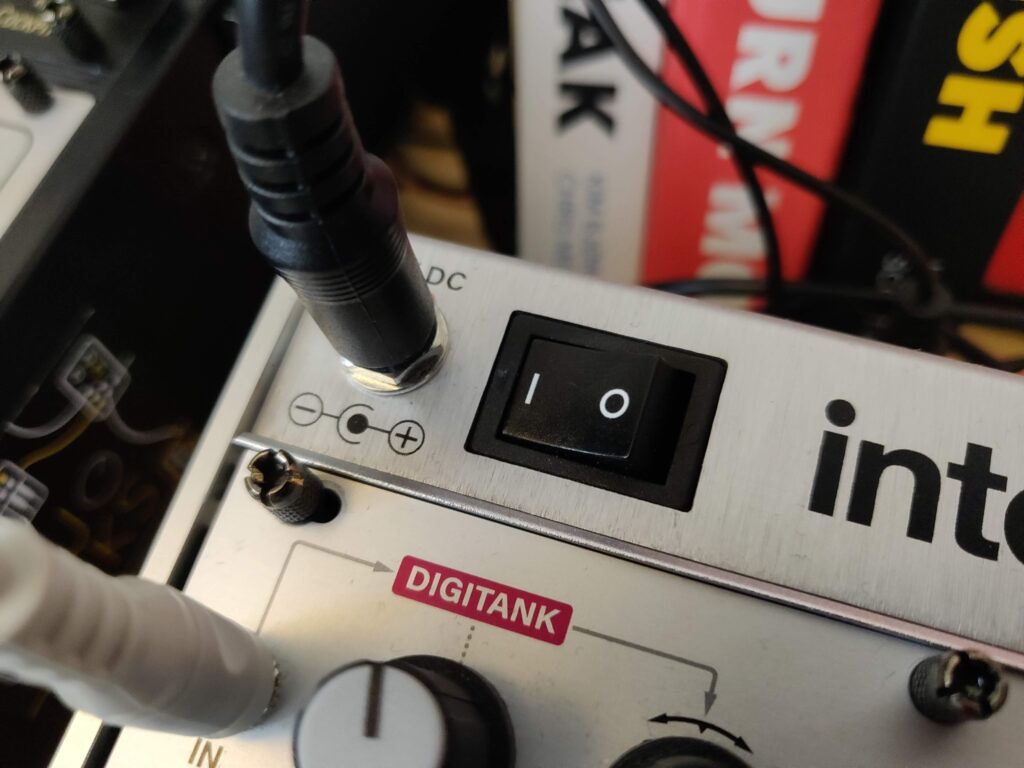 The on/off button. It's the portal to creativity. Seeing those gear-lights turning on catapults me into an adventurous state of exploration. But I love all knobs so much I could tweak them all day – and my old Sequential Pro-2 had these really nice and interactive pressure-sensitive touch strips.
2. Do you have an 'almost' perfect bit of kit? What would you change?
The Moog Grandmother – I'd just replace the spring reverb with a shimmer reverb or a stereo delay. Actually, I did that, but using pedals. Then there's the Teenage Engineering OP-1. I've had it for 8 years now. Add velocity sensitivity and aftertouch, 4 more tracks, multiple FX slots, and better in- and output options, and it's a winner. However, imperfect bits of kit make for limitations, which usually spark creative thinking – or annoyance if you haven't been eating for a while.
3. What setup do you bring on holiday/tour/commute etc.?
My OP-1, a book, iPad and/or laptop – I can cover any work or music gig – and it fits in my backpack. I never commute, go on holiday or tour – and I really can't make music when I'm on an airplane. I'm usually traveling to a music tech convention, where I then bring my Intellijel 7U travel case with a selection of modules and a couple of pedals, for demonstration and maybe performance.
4. What software do you wish was hardware and vice versa?
Spectrasonics Omnisphere as a hardware synth would be amazing. The Sequential Prophet-X is somewhat there, and with a built-in 8-track sequencer/recorder and multitimbrality, it would be amazing. There's also a lot of VCV-Rack modules that are far more experimental than current Eurorack modules, and would be nice to have as hardware. I've never really wanted any hardware in software-form, but having vintage and/or expensive synths in a software version is a really nice option if you can't afford the real thing (what is "real" anyway?).
5. Is there anything you regret selling… or regret buying?
I miss my old Elektron Octatrack, but the mkII version is not enough to make me re-purchase – I'll wait for a MkIII miracle. But like Amy Winehouse and William Shatner, I usually don't regret anything.

6. What gear has inspired you to produce the most music?
It really depends on how you define the concepts of producing and music. I get inspired by almost every piece of gear to at least produce a squeaky noise. Of course, there's some that invite towards more jamming, like my TR-8S drum machine, or noodling and creating evolving soundscapes and sequences, like with the modular system. The Elektron sequencing interface has always been a favorite of mine – and even more so with the probability options. The Endorphin.es Furthrrr Generator, Squarp Hermod modular sequencer, Arturia Microfreak, Moog Grandmother, and the Chase Bliss Audio Blooper pedal, are among my top-inspiring friends at the moment though.

7. If you had to start over, what would you get first?
A job. That's what I did back then. After that, I'd get a Moog One and an 8-track tape recorder. You'd never see me again.
8. What's the most annoying piece of gear you have, that you just can't live without?
I think I sold it – so apparently I can live without it. However, I love my Snyderphonics Manta, but can never remember which hexagons hold what. I guess it leads to what some call improvisation.
9. Most surprising tip/trick/technique that you've discovered about a bit of kit?
I don't know if it's surprising, but the first time I ran notes from the OP-1's Tombola sequencer into a reverb 100% wet to create an evolving soundscape/pad, I got so excited I went out and bought myself a Snickers bar.
---
Artist or Band name?
Kim Bjørn / Dreamhub

Genre?
Ambient

Selfie?
Can't find my selfie-stick.

Where are you from?
Copenhagen, Denmark

How did you get into music?
Took piano lessons from age 7, then got an organ and a 4-track tape recorder. The rest is unclear.

What still drives you to make music?
Curiosity. "What if..?"

How do you most often start a new track?
Dabbling around with no purpose, then grabs a line, sound or sequence.

How do you know when a track is finished?
When there's nothing left to take away. Or if I fall asleep while re-listening – it's ambient after all.

Show us your current studio
I don't really have one – but there's some stuff on a table:
Best creative advice that you've ever heard?
"A camera is a tool for learning how to see without a camera".
Translate this to the musical world, and lo and behold…
Promote your latest thing… Go ahead, throw us a link.
[Editor: Kim, in his humble way, simply offered one link to his latest book Pedal Crush. But trust me, his other books Patch&Tweak and Push Turn Move are equally excellent. Go get'em here.
Kim's ambient music can be found here on bandcamp
---
[Editor: There are affiliate links to the relevant gear throughout the articles. It helps to support this blog. In fact, should you be needing some patch cables or guitar strings. Then clicking on one of the above links and buying any product that you prefer, will help the blog… doesn't even have to be the ones in the link. Thx]
---