1. Favourite knob or fader or switch on a piece of gear and why?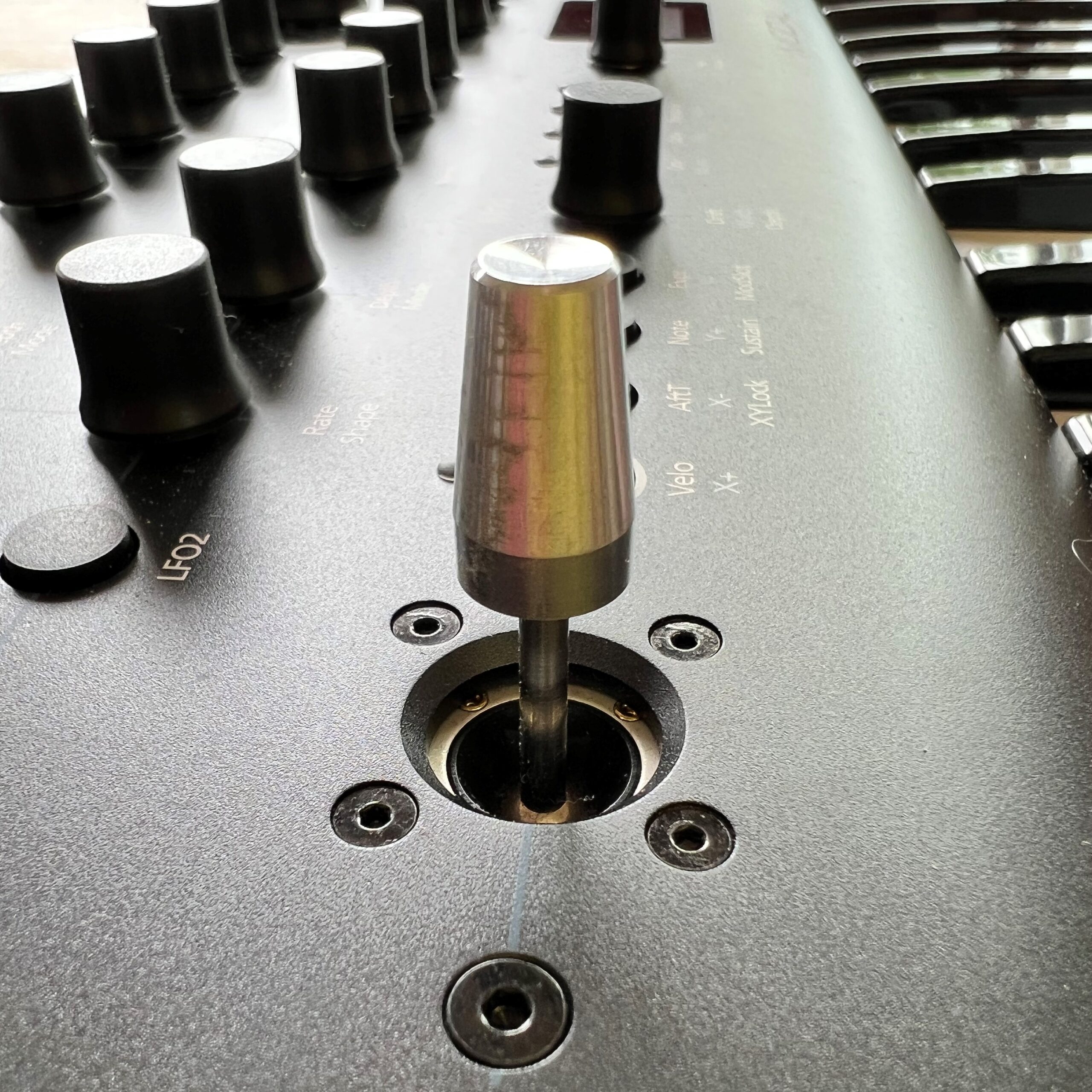 This is actually a harder question than I initially thought ha ha. Firstly I want to say that the knobs from DJ Techtools are awesome. I replaced my knobs from my TB-3 into bright Purple ones (love purple) but my all time favourite tool is the the 4-axis joystick from the Argon8 of Modal Electronics [US, EU]. I was a big gamer when I was young, and it reminds me of the good old days and it just feels like FUN. The joystick on the Argon8 can be assigned to many modulation possibilities which is ace for a live performance.
2. Do you have an 'almost' perfect bit of kit? What would you change?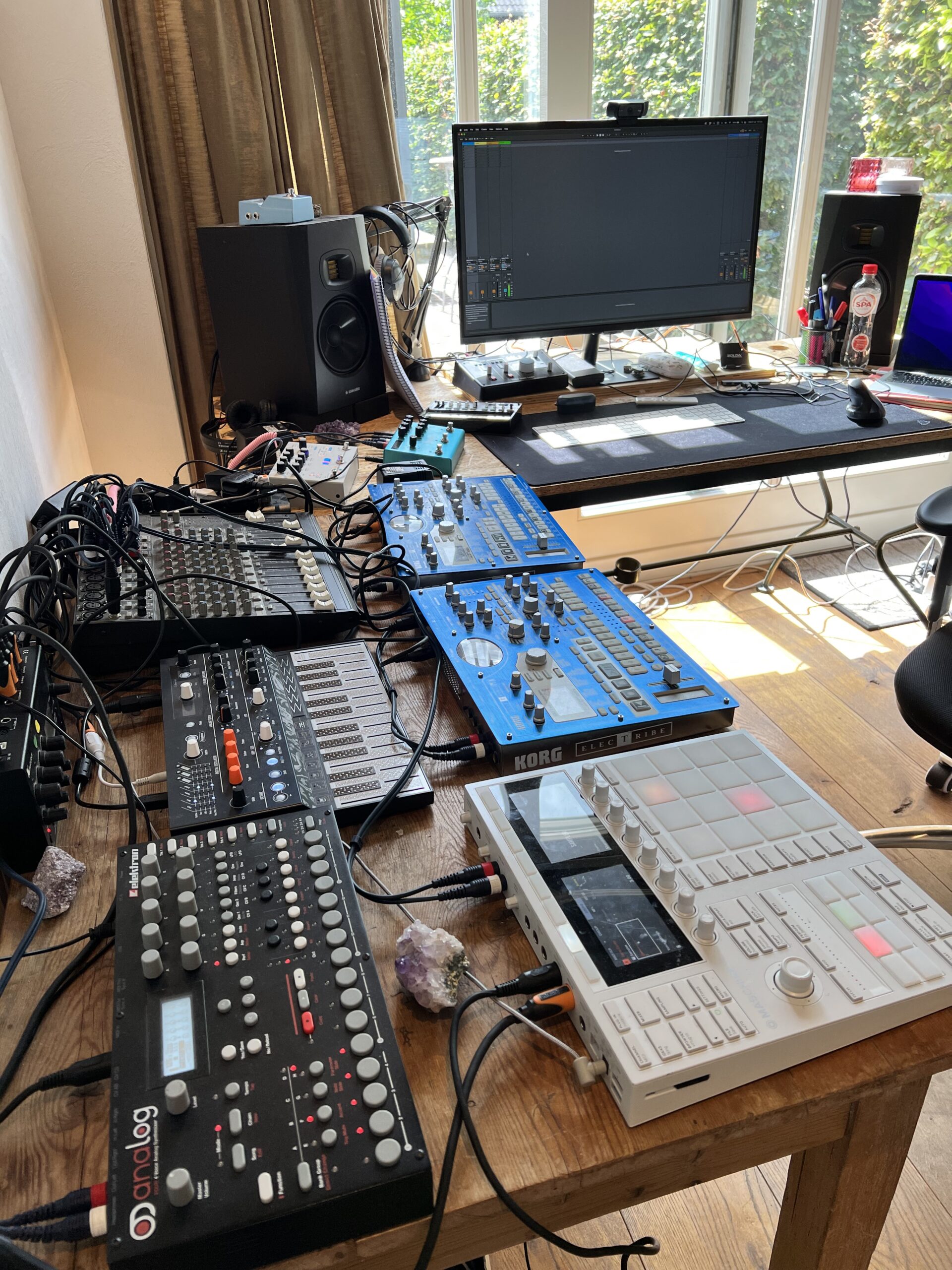 I guess I can interoperate this as my perfect setup as I haven't burned my hands on
modules yet. Well, my setup is always evolving and I am sometimes surprised by how many pieces of gear are in my collection. I love to use my gear rack as a library, so I can swap out elements and finetune my set for each performance separately. At the moment I am a big fan of my Maschine+ [US, EU], Korg Opsix, Korg Electribe EMX, Hologram FX, Strymon Big Sky [US, EU], Elektron Analog Four [US, EU], Korg Volca FM, Moog Sub37, and Roland TB-3.
3. What setup do you bring on holiday or tour or commute etc.?
I would love to bring everything haha, but unfortunately that's impossible. I reckon it's the setup I mentioned above, but for holiday time I would bring the Maschine+ and Modal Skulpt as it has batteries. Myvolts made a handy mini mixer so I can hook up some small devices to it. They also have incredible coloured cables which makes my holiday setup more fun – it's all about the fun!
4. What software do you wish was hardware and vice versa?
I've been working lately a lot with MNTRA plugin… it's sample based and it has some
lovely FX in it as well. The layout and the layering works great for ambient pieces, and the sounds are really organic. If this is created in a hardware piece, I will be the first one to buy it. It's already stunning as plugin, so I can imagine how it will look in an actually 3D product.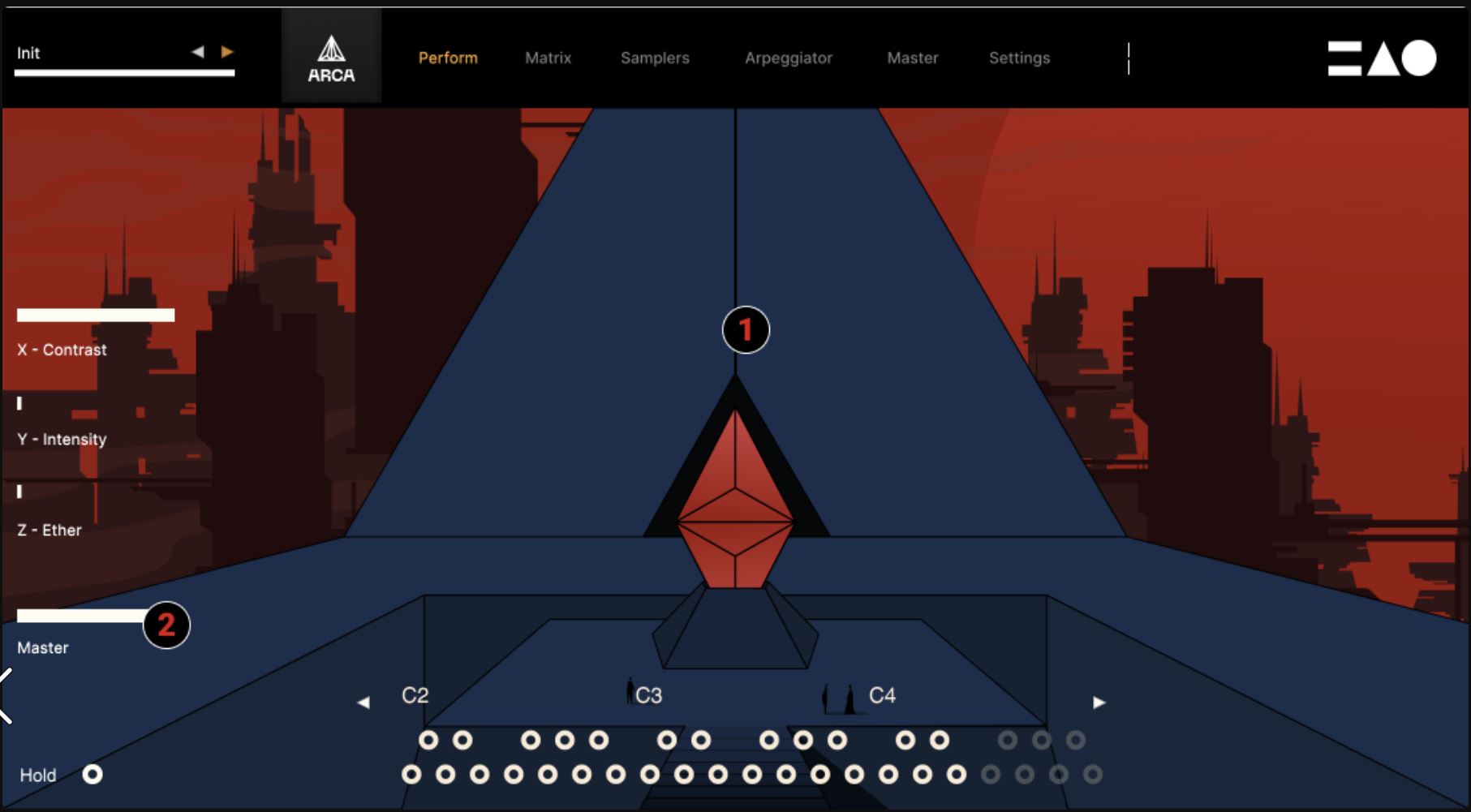 5. Is there anything you regret selling… or regret buying?
I wish I had, because it would mean my studio was way more portable haha! I almost
never sell things, but when I do, it is jus time for the device to move on. I believe that gear should always be played and be loved (gosh I sound like a massive nerd now), so therefore if I'm not using something I will give it away or maybe sell it, but I will never regret it.
6. What gear has inspired you to produce the most music?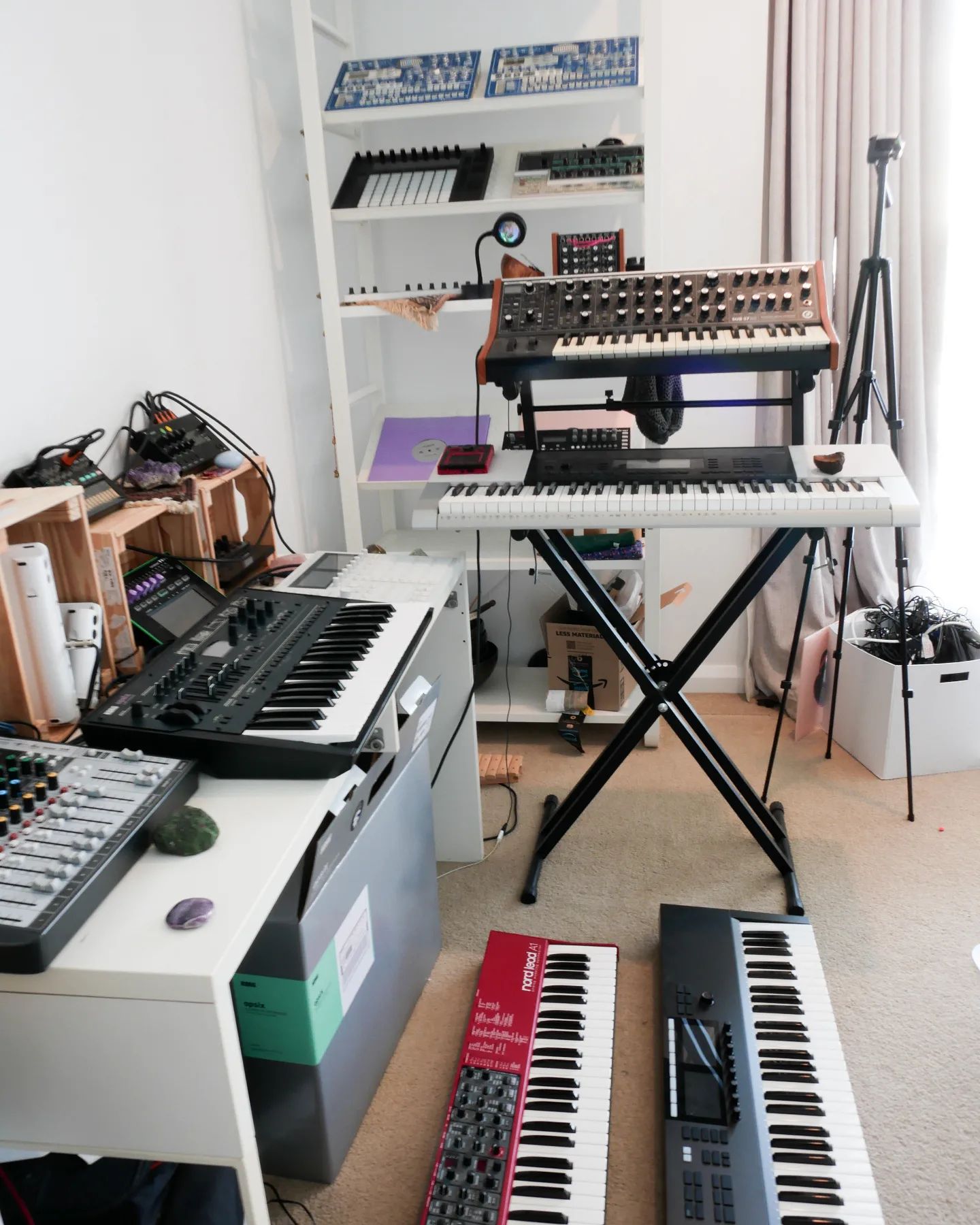 My Moog Sub37 and Nord Lead A1. It's hard to put this in words, but they truly opened up a whole new world for me. I started by playing as a DJ, Techno sets, and I still love it, but I am always hunting for more depth in music. By creating music "freeform" you start to get in touch with your biggest creative part of your brain, and playing keys is doing it for me. I love how keyboards/ synthesizers look, the layout, the harmonies I can create by tweaking the Oscillators and filter it down into a warm sounding layer. It is just so hands-on, and it always invites me to play.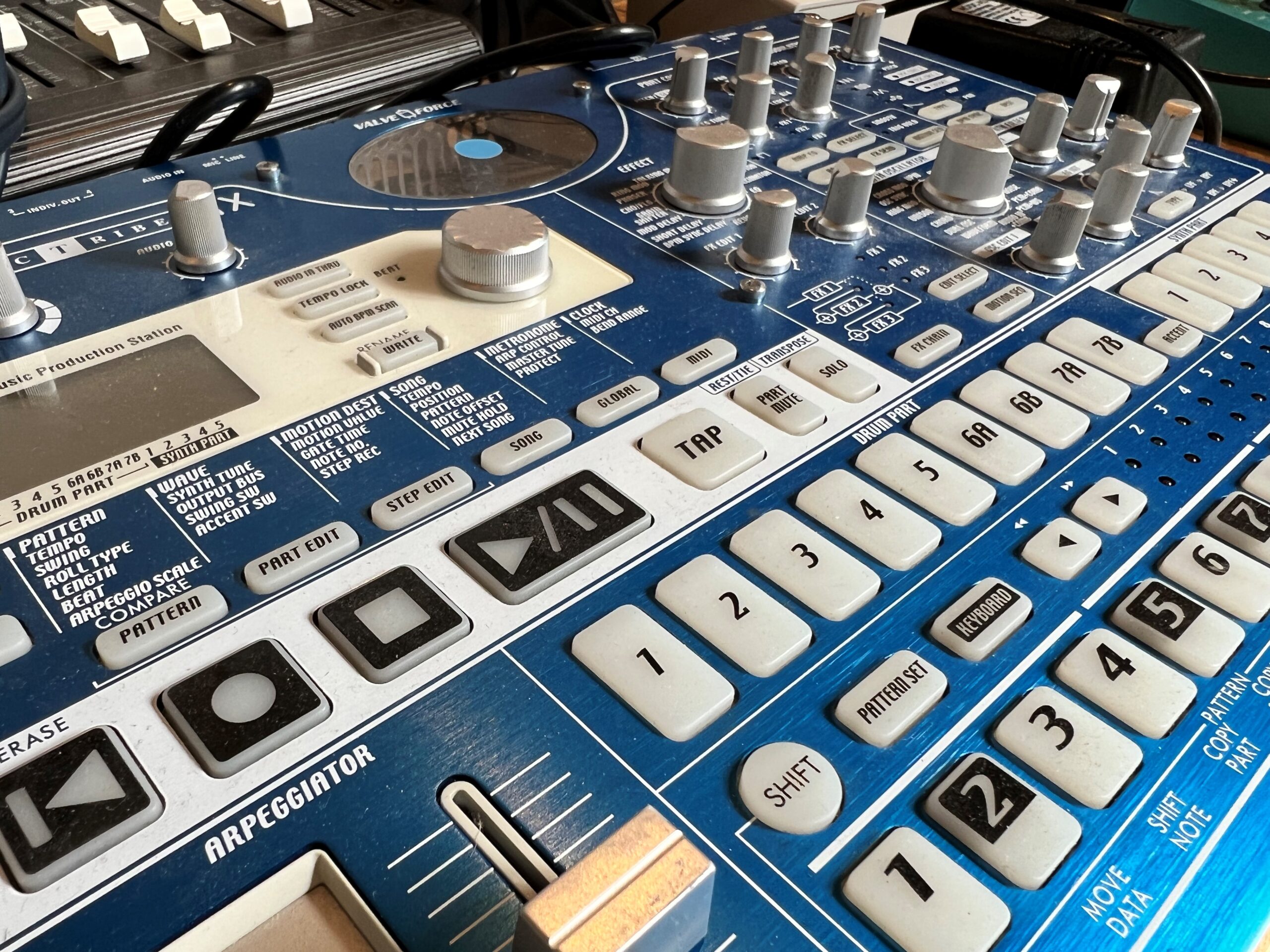 My Korg Electribe EMX has showed me how to create a track with just one piece of gear. The crunch it has, FX, Wavetables, Drive, Tubes and the step sequencer is nothing alike other pieces of gear. It truly has a big place in my heart, therefore I have two of them. (I love writing love letters to my gear haha!)
7. If you had to start over, what would you get first?
I started off by getting a Doepfer Dark Energy, the store owner advised me this. Because of that… I had to learn immediately about synthesis as it's a mono synth and it's ready to patch up. I wouldn't recommend someone this more complex device (I love it though). I would have start off with first some midi devices and maybe something like the Roland Boutique or Volca FM series. Just to try out what fits my needs. I would advice to pop in a store regularly and just try out stuff instead of buying it. For modular fans, maybe try out some plugins first and dive into books like Bjooks – they make amazing books with a lot of insights.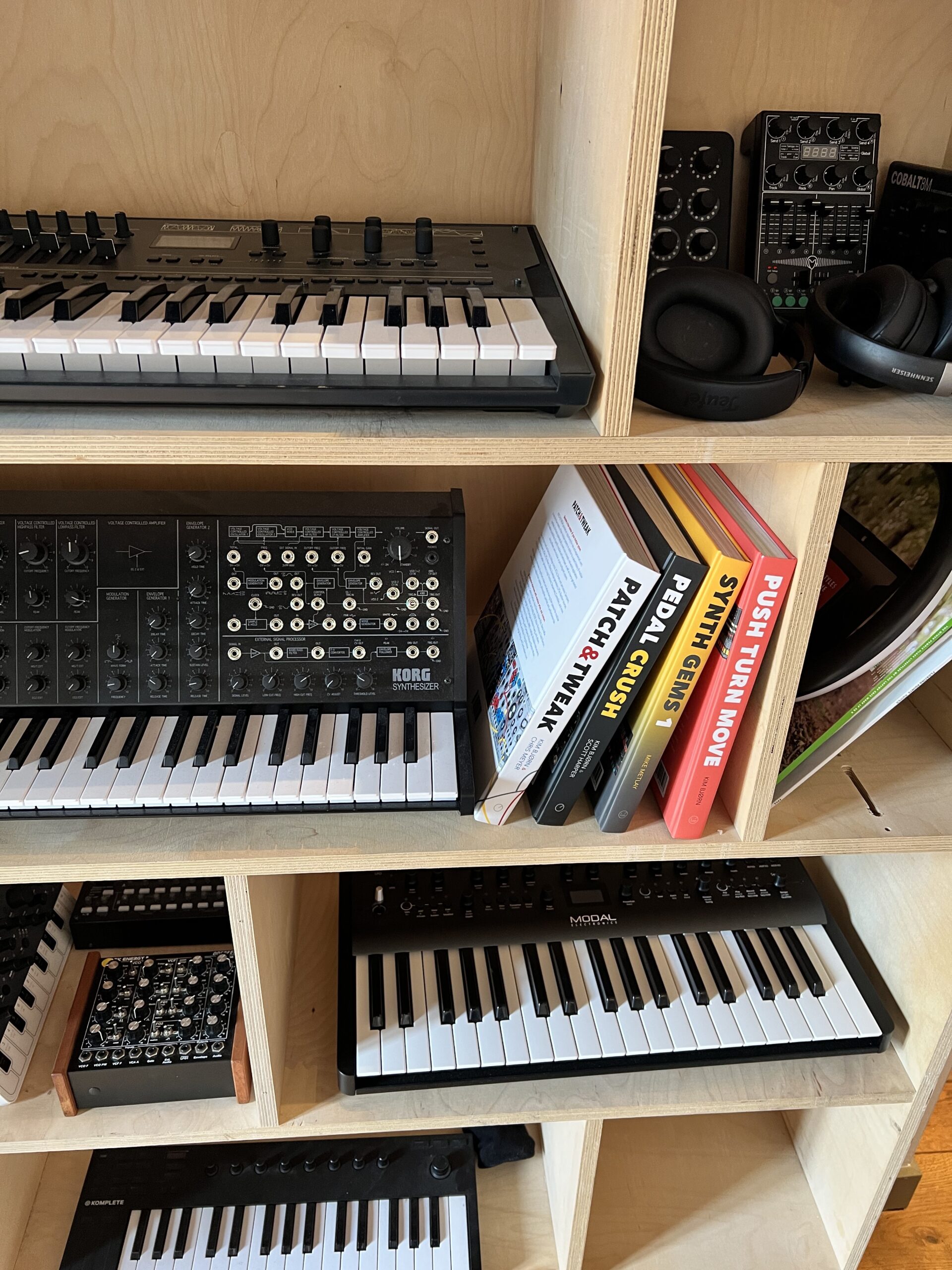 8. What's the most annoying piece of gear you have, that you just can't live without?
My Yamaha DX200. I have a big love for FM synthesis, but this old man has some bugs and it jumps to presets and different settings when I want to turn knobs. I would never sell it, because it's a synth that is really well made and kind of a classic. I also got it from a dear friend of mine, so there is a lot of emotional connection to it. DX200 my mate.
9. Most surprising tip or trick or technique that you've discovered about a bit of kit?
I think I just got the hang of making devices sound different than they are known for, I love that challenge. So I got the Korg Volca FM [US], which definitely sounds like FM, but I surprisingly got it sound like a deep Sound Bowl by slowing down the BPM and slowing down the Sequence. By combining it with the Hologram FX it got that deep frequency that really hits the spot. It's insane!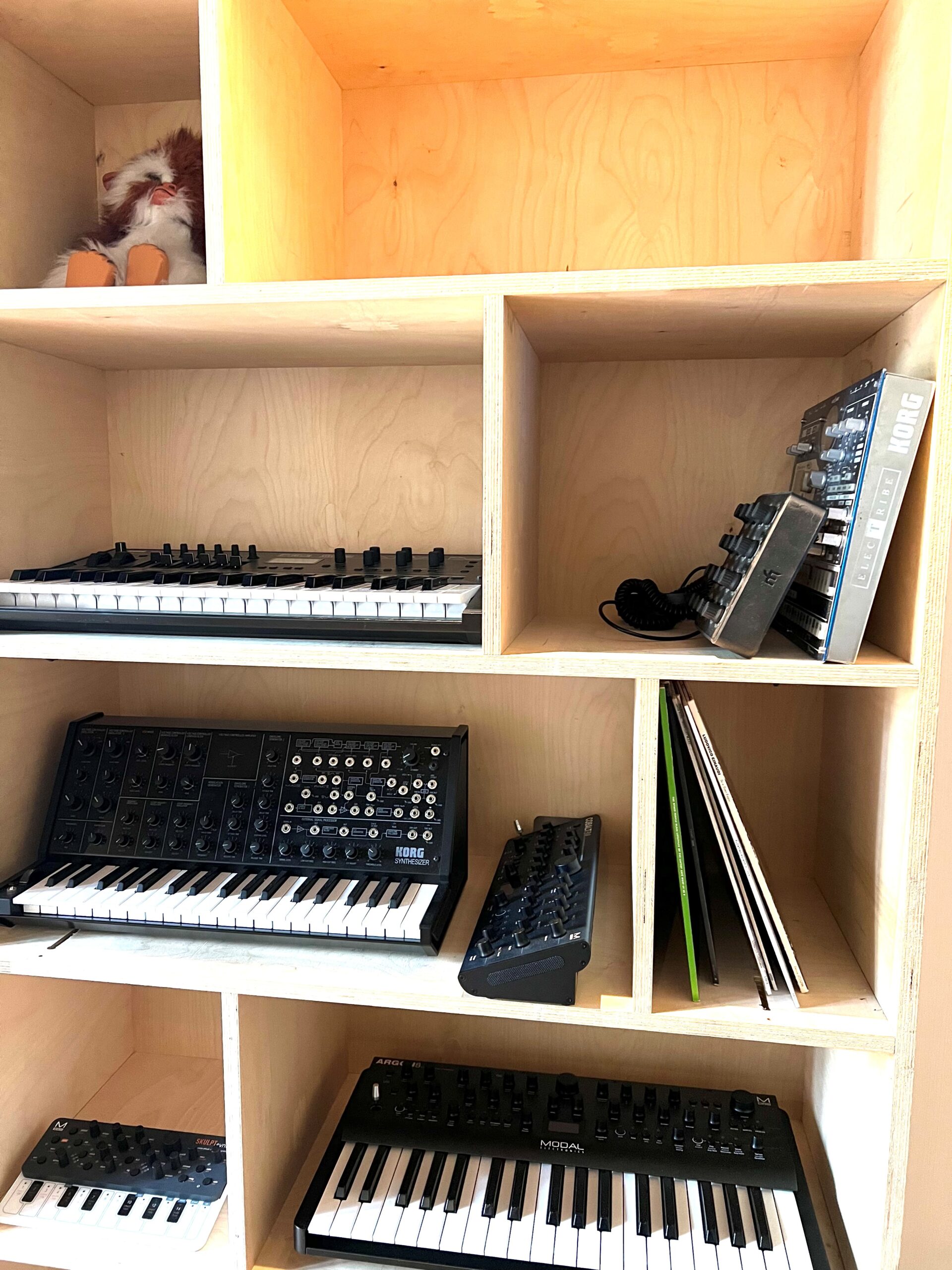 ---
Artist or Band name?
Nadia Struiwgh.
Genre?
Ambient, Experimental, Techno. I like to combine all styles, and adjust it to my mood. I actually am not a fan of the word Genres, as I hear and feel music as… music.
Selfie?
Not feeling it right now haha, sometimes I do, but I am already so much online on
Instagram, that I become bored by my own face. My machines will do the job.
Where are you from?
The Netherlands 🙂 but currently a nomad. I live where my heart guides me to.
How did you get into music?
Long story short, I was a massive raver when I was young. You could find me at any
Electronic party, and it really got me. One day I asked myself, there must be more to it than only craving for a phat base. I met my mentor 13 years ago at a party, DJ Estroe, and I was amazed by her appearance. A WOMAN IN THE SCENE!! HELLO! So I wrote her a message, and I never left the journey. I practiced a lot at her house, started to play DJ sets and borrowed an old laptop from my partner in that time to make music with Reason. All my time and money was poured into music, and that's the journey I will always follow.
My first setup was this: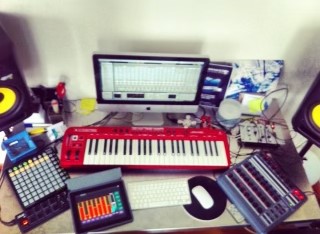 What still drives you to make music?
My soul and community.
How do you most often start a new track?
It really depends on my mood and it really changes each time. Sometimes I start by using pads, mostly I do actually, and sometimes I just love to start off with crazy beats. It always starts by just jamming and sitting down to have fun. If I don't do it like that, I force something which will turn into a big frustration.
How do you know when a track is finished?
When it feels, when I have no doubts, when I have no questions. I learned in life, when there are no questions, it flows and it makes sense. And it really applied to music as well for me. When you feel the "YES" feeling it's time to let it go.
Show us your current studio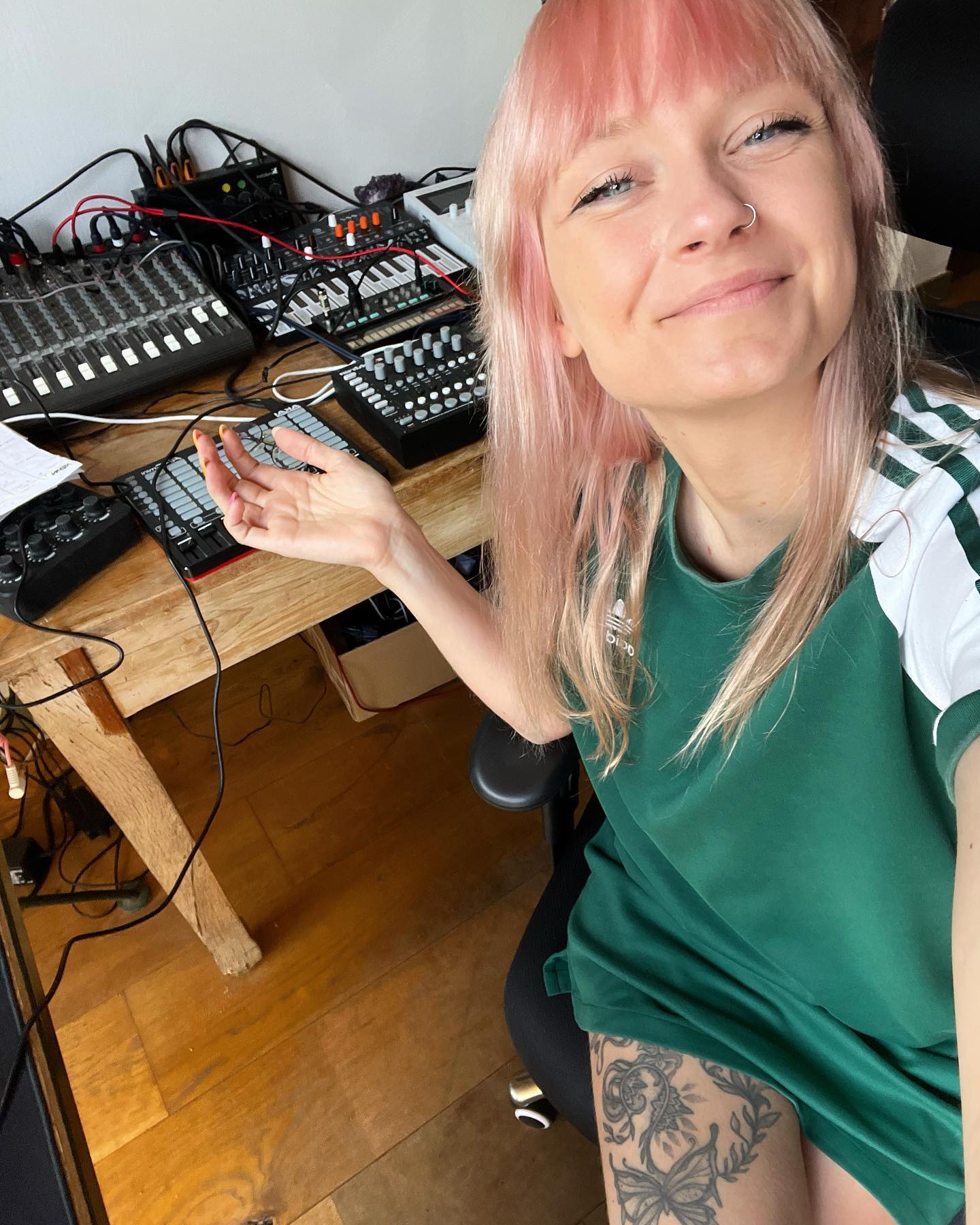 Best creative advice that you've ever heard?
"You Do You". And I still listen to it everyday again. I try not to watch what other people do too much, because it distracts me from my path and it influences my music. I learned to keep the focus within. If you are happy with what you are doing, there will always be someone around that will be happy with what you are doing too, so keep the drive, keep going, keep learning and keep celebrating life.
Promote your latest thing… Go ahead, throw us a link.
instagram.com/nadiastruiwigh – and for bookings please send my agent a message 🙂 Marcus@lb-agency.net
---
[Editor: There are affiliate links to the relevant gear throughout the articles. It helps to support this blog. In fact, should you be needing some patch cables or guitar strings. Then clicking on one of the above links and buying any product that you prefer, will help the blog… doesn't even have to be the ones in the link. Thx]
---