1. Favourite knob/fader/switch on a piece of gear and why?
Recently I got the Type One Analog Ensemble by Tom Oakes of Horrothia FX who just
happens to live in my town of birth, Cornwall in the UK. Asides from being an absolutely gorgeous chorus the Type One has this excellent arcade style button for the footswitch and it is so satisfying to click.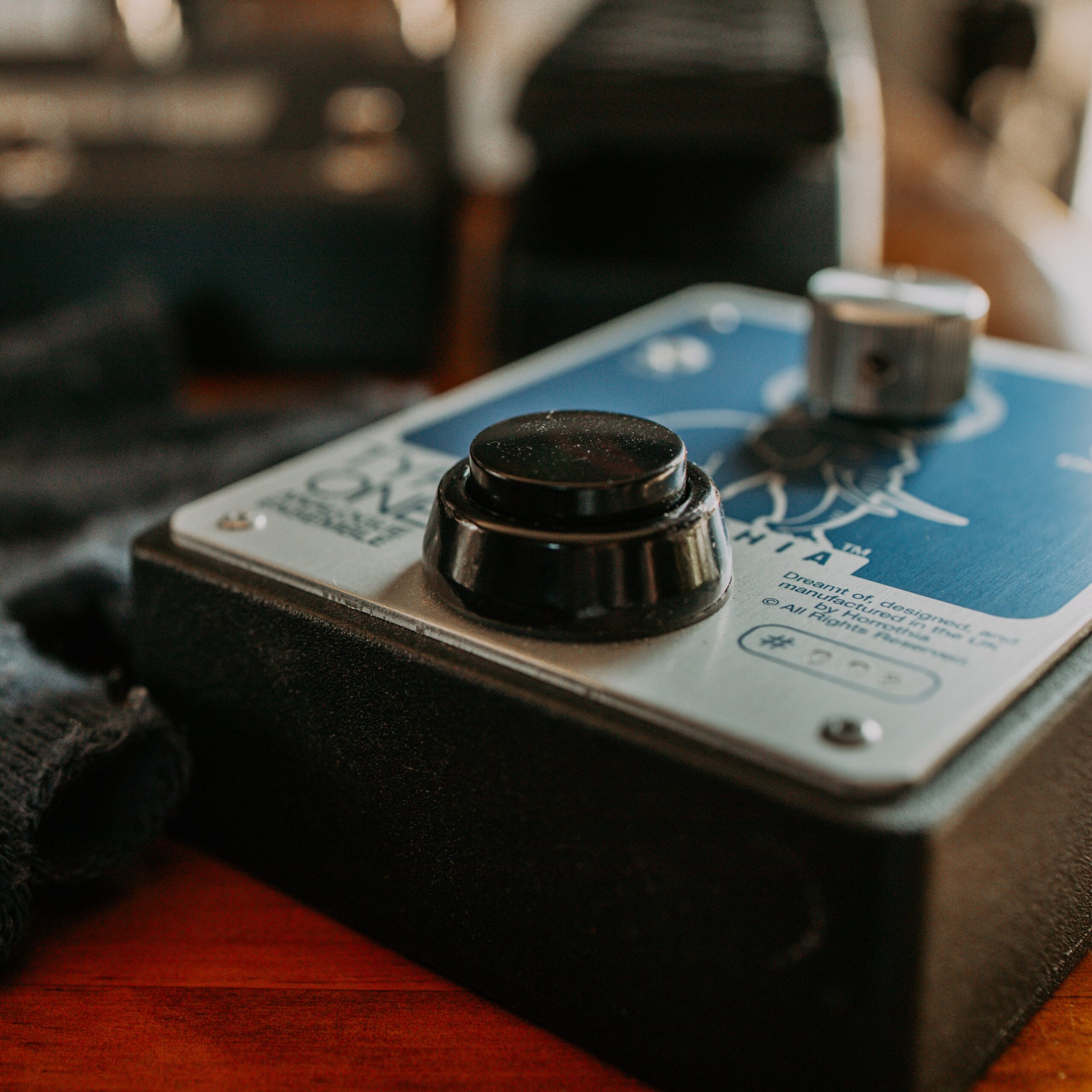 I also really love the Speed Control dial on my Sony Clear Voice Walkman, it's old, plastic and the dial is knurled and recessed almost past the point of being able to turn it but the tactile experience mixed with the sonic result is awesome.
Lastly I don't own one yet but I'm really looking forward to getting a Nakedboards MC-8 MIDI controller, the faders are a little larger and spaced nicely for using with orchestral software libraries to add that 'human' feel.
2. Do you have an 'almost' perfect bit of kit? What would you change?
A recent addition for me is my StudioLogic SL88 Studio MIDI keyboard. I have an old family heirloom upright piano that is gorgeous but I haven't been able to relocate it to our current residence, so getting a properly weighted, natural feeling, full size key bed has made writing with software instruments way more enjoyable and inspiring, so far I wouldn't change a thing on it.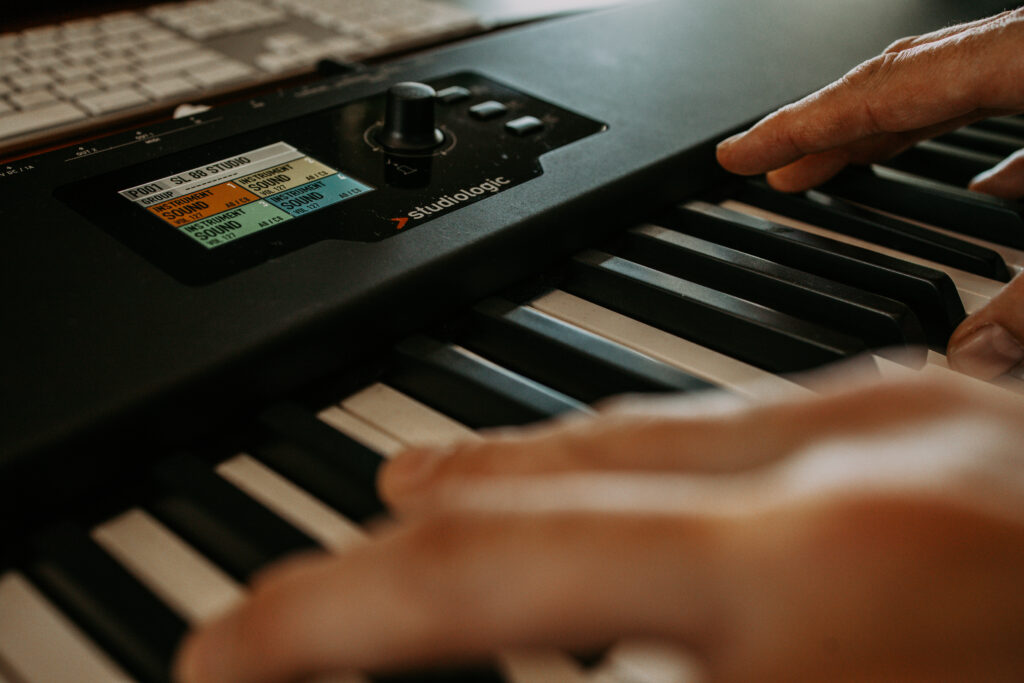 I used to manage a mates boutique shop, Pedal Empire, in Brisbane and build pedalboards professionally, so I have played hundreds, if not thousands of individual pedals, my ethos from that experience is that 'perfect' is a relative term and every pedal, if you allow it the time, can yield some 'perfect' results in the right context. I think it's up to the player to find the gold and follow where it leads. Even something as amazingly engineered as the Chase Bliss Blooper for example, is full of quirks, artifacts and limitations of sorts, but if you ironed all those out to be 'perfect' it probably wouldn't be half as fun.
3. What setup do you bring on holiday/tour/commute etc.?
Since moving to a rural, coastal location in Tasmania in recent years I haven't had need to take a rig on the road much, however if we do go away for longer than a few days and I need to film a demo or make some music I'll usually take the Walrus Audio Slö, Bondi Art Van Delay, 1981 DRV & CBA Blooper. Those with a guitar, laptop and little interface is all I need for guitar inspiration.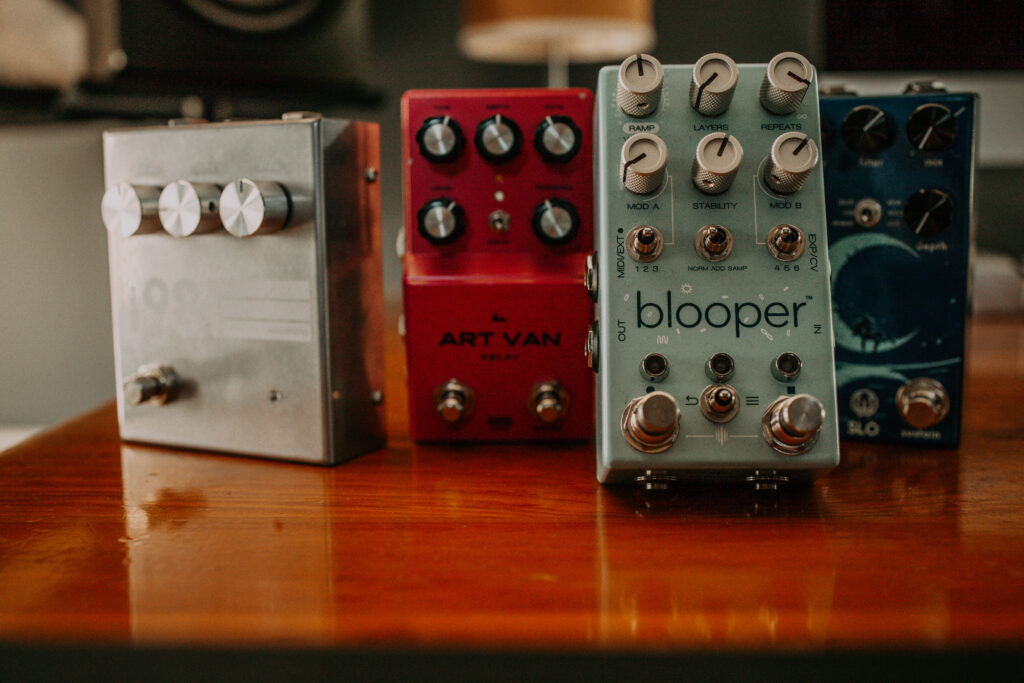 I'm also building a small modular system that is easy to take out and make generative ambient music.
If I don't have need for anything and just want to make some music in the moment I love using the Fugue Machine app, it's great for coming up with a simple melody and layering in different speeds and directions… too much fun.
4. What software do you wish was hardware and vice versa?
I use PaulStretch a lot, something about taking a 1 minute piece and making it 15 minutes long is so fascinating to me and PaulStretch does that in it's own special way, I'd love that in a pedal. I'm pretty new to modular synth but perhaps there's a module that does that.
I recently got hold of a Pecan Audio Edera which is a stereo warming unit in a small simple pedal format. Previously I would use some plugin distortion on the fx bus to warm up tracks while wishing I had something like the Analog Heat, but way less complicated, so the Edera has fulfilled that wish.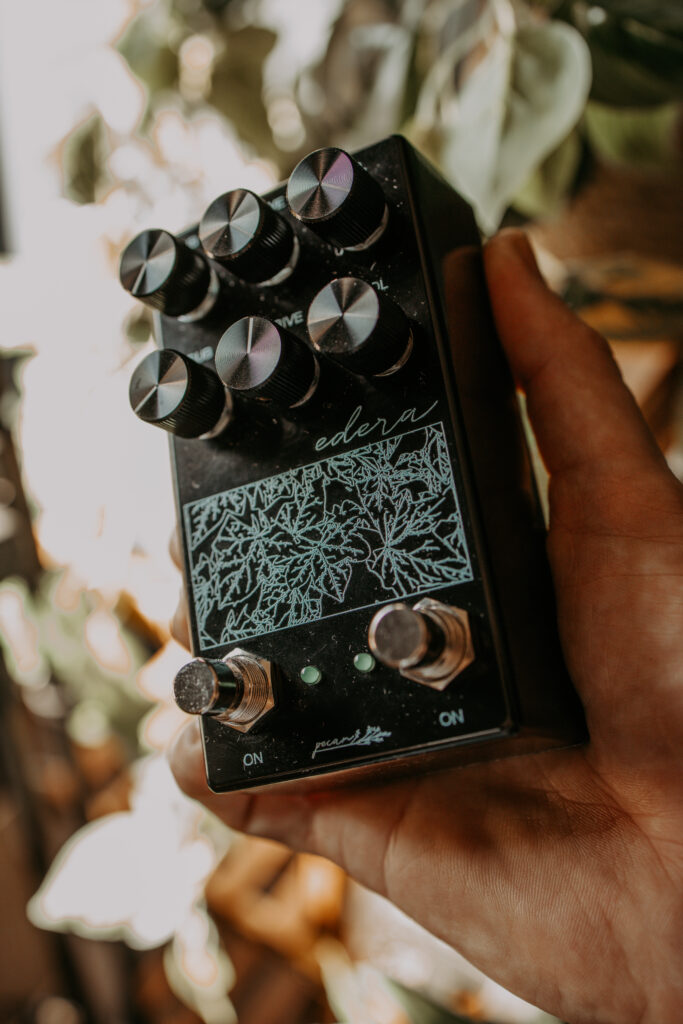 Back the other way, hardware I wish was software, I still haven't found a plugin or process that yields the same result as recording to cassette or tape and slowing down. 80's and 90's tape/cassette equipment all have their own oddities that they impart to a recording. They sounds so good to me and even the best tape emulation can't quite nail it just yet. They're getting closer and closer though.
5. Is there anything you regret selling… or regret buying?
Years ago I made my mind up that I wouldn't have any extra pedals/gear laying around that weren't in constant use or on my pedalboard so I used to sell everything surplus to my needs and made my mind up not to regret any of it. I don't follow that mantra anymore and have heaps of gear in corners and on shelves. I have bought and sold an El Capistan about 4 times now, currently don't have one, that'll probably change again. I did have an original Bondi Del Mar that I let go right before the prices got exorbitantly high which is a bit of a bummer, but I kinda despise that part of the gear community anyway, I like to sell knowing people are getting a good deal.
Working at PE for years made it easy not to miss things I'd personally sold when it's always there in store if you need a fix. I would get way too sad if I let myself think too much about what I've let go, safe to say I've moved through hundreds of pedals on my board in the last 10 years. I don't think I've regretted a purchase ever because it's all a learning experience finding out what works and what doesn't.
6. What gear has inspired you to produce the most music?
My process for making pedal demos has always been to let the subject pedal guide my noodling and musing so mostly when you watch one of my videos you're hearing snippets of how the said pedal has inspired me.
I always get inspired easily by Spitfire Audio orchestral samples, they just capture so much realism and are emotive to play, same goes for Fracture Sounds, The Phonoloop and Felt Instruments.
Pedal wise the Hologram Electronics Microcosm is pretty much the most inspiring analog thing I've owned and I can rest assured that plugging into it will spark something if I'm ever drawing a blank.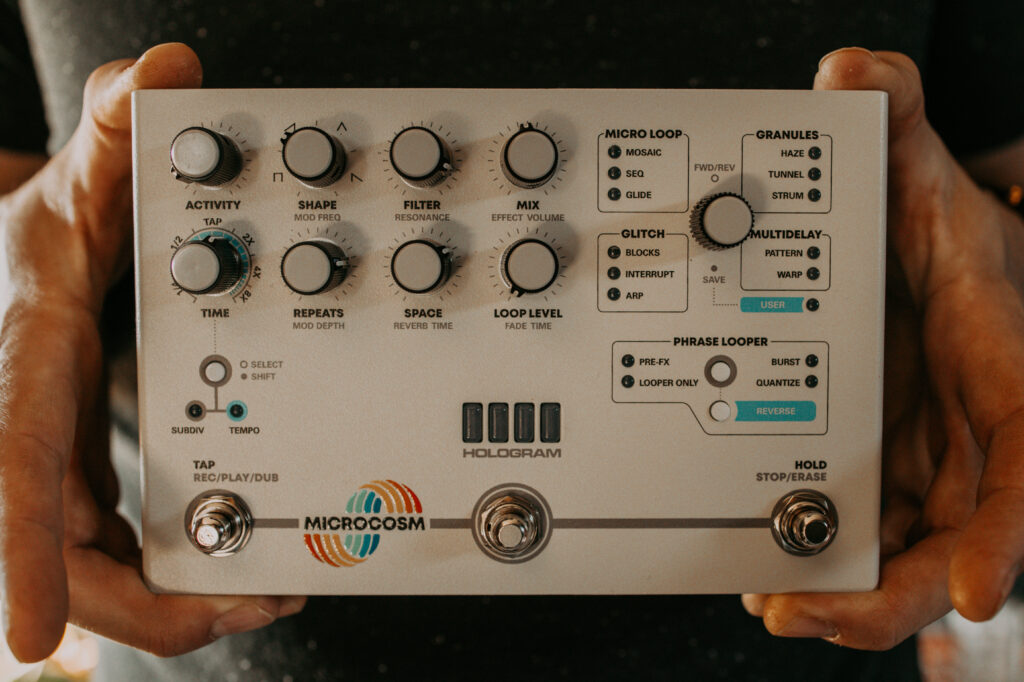 7. If you had to start over, what would you get first?
I started playing guitar in the 'Big Amp Heavy Guitar' era, if I could go back and tell myself to get a Telecaster and a Princeton it would make a world of difference. My first pedals were a Line-6 DL4 and a Crowther Hot Cake which I still think now for the way I like to write and play are great pedals to start with.
8. What's the most annoying piece of gear you have, that you just can't live without?
I feel like maybe I'm in a sweet spot where I've narrowed down my choices to equipment that largely improves my work flow. That said, I recently dived headlong into modular synthesis after a few years of deliberating, and though I have a clear vision for what my desired sounds from Modular are, the learning curve is pretty dramatic. The Patch & Tweak book from Kim Bjorn Bjooks is helping a lot though.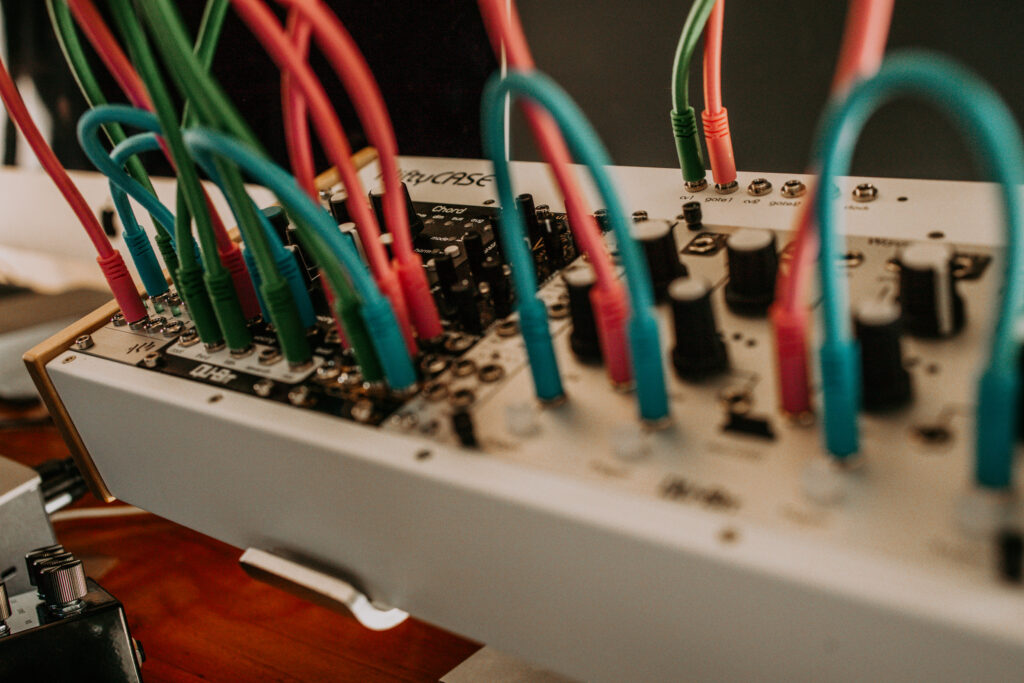 9. Most surprising tip/trick/technique that you've discovered about a bit of gear?
In the box I love to duplicate tracks, hard pan them, and then zoom in and move one of them just a few milliseconds ahead for a massively wide sound. Also a fun trick is recording something to tape, physically speeding it up and recording it again and then slowing it down and stretching it out to overlay with the original recording. This adds textures that I absolutely adore the heck out of.
Hardware wise the Horrothia Type One I mentioned earlier is a terrific widening tool with the chorusing effect dialed at it's slowest where you can't actually discern the movement. I nearly always record guitars for stuff other than demos through the Type One in stereo even if I later end up panning or summing to mono, it just sounds so good and I leave it on constantly. The only downside is I don't get to smash that arcade button as much as I'd like!
---
Artist or Band name?
Ponderer Sounds – My Youtube Channel for gear demos and music creation
Genre?
Ambient/Post Rock/Dream Pop/Orchestral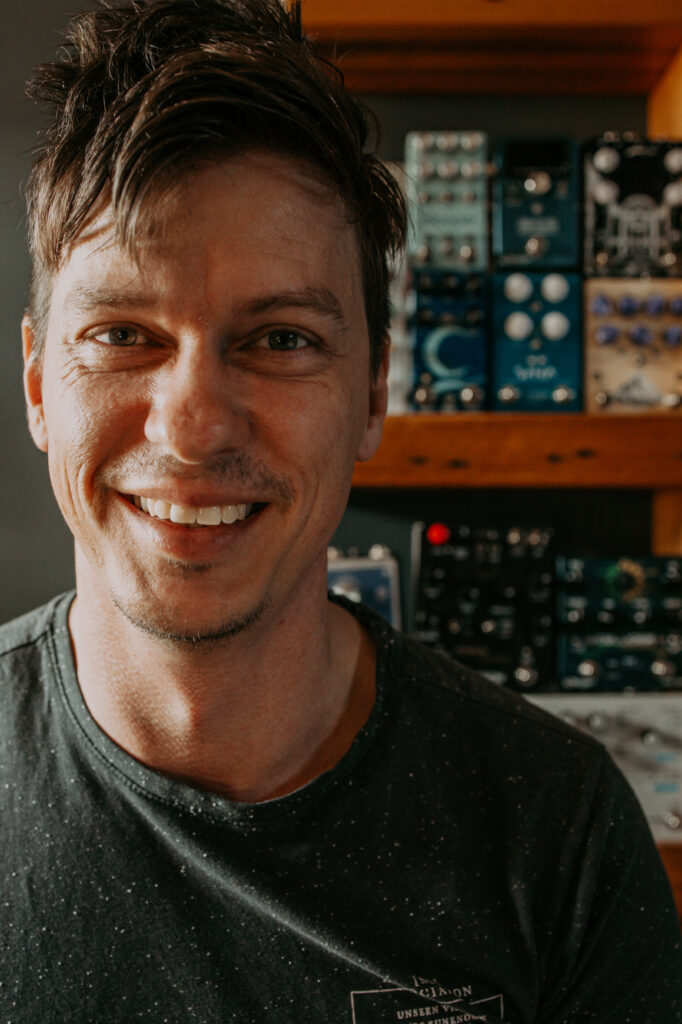 Where are you from?
Originally Cornwall UK – Live in Tasmania Australia (but probably not for too long)
How did you get into music?
I played piano under my grandmothers supervision from about 4 or 5 years old. Music was always encouraged in our home. I have fond memories of crawling under the dining room table with a small cassette radio and a cushion and listening to George Harrison's Cloud Nine album till I fell asleep. I would have been 6 or so. And I grew up with a nice collection of records from the Beatles, Bee Gees and Creedence Clear Water that I played to death, plus when someone else wasn't playing music my mum always had Beethoven or Tchaikovsky on. My childhood had a constant soundtrack.
I think I started guitar when I was 17, I'd steal my sister's boyfriend's sparkly silver Ibanez and teach myself how to play punk rock like Rancid & Bracket. I remember discovering the power chord and then it was all full steam ahead. Later I got into Pearl Jam, Stone Temple Pilots and Foo Fighters before getting into less mainstream and more indie/emo stuff in the late 90's.
What still drives you to make music?
It's my life blood, being creative is the way of the future and I believe it will only become more and more important to us the more automated the rest of our lifestyle becomes. It amazes me that there's only a handful of notes, limited combinations of them to create chords and melody, but somehow the human element of interpreting them constantly yields fruit that didn't exist previously, and an individual can move so many strangers with mere vibration.
How do you most often start a new track?
I've never been one for learning other peoples music, when I sit at the piano/keyboard or pick up my guitar I gravitate towards making something myself. I'm in the process now of adapting small musical ideas from pedal demos and turning them into full tracks so typically that's where a new idea spawns.
How do you know when a track is finished?
I don't really know, but when I've added everything in my head and find myself getting lost in it, when I'm supposed to be listening back subjectively, I know it's pretty much ready to go.
Show us your current studio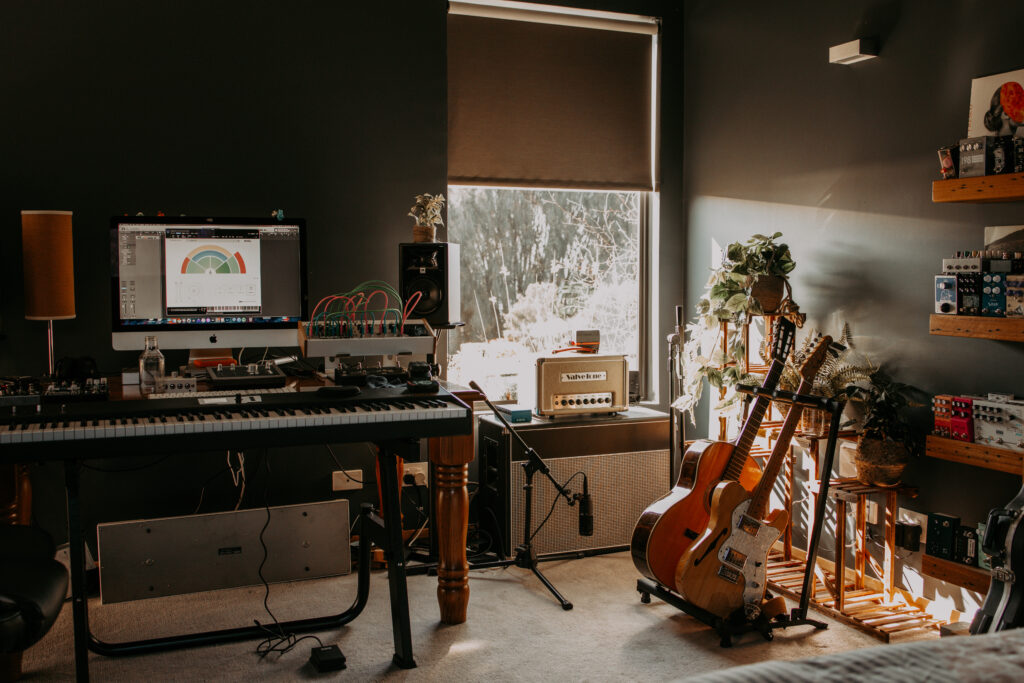 Best creative advice that you've ever heard?
'Inspiration exists, but it has to find you working.' Pablo Picasso.
Always start, move yourself till something moves you and then chase that down.
Promote your latest thing… Go ahead, throw us a link.
Head over to my youtube channel (Ponderer Sounds) to watch weekly demos on great pedals and gear, and stay tuned for a new song creation series I'm working on.
https://www.youtube.com/channel/UCgHpuhheoXRxZVKONOOFE_g/
[Editor: All photos in this interview are by Tiarne Shaw]

---
[Editor: Do you have a favorite tip, trick or way of working with any of the gear from this interview?
Then throw a comment below…]
---